13 Common Personalization Myths You Must Stop Believing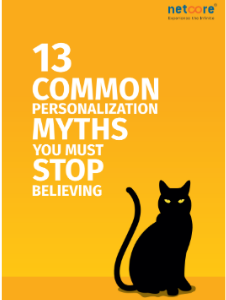 We have been seeing a lot of myths on personalization doing rounds in the marketing circle. There seems to be a lot of confusion around the implementation, its suitability, scalability, and more. Everyone seems to have different answers or versions of the truth about how personalization works. This confusion persists even among those using personalization – which, sadly, doesn't allow them to reap the full benefits of it.
Post-reading this Ebook, you will be able to demystify:
Website Personalization Myths
Data-related Personalization Myths
Industry-related Personalization Myths
Check out the Ebook to understand why personalization is not just about having your customer's first name in your emails or newsletters. It begins by understanding your user's behavior signals – the pages they visit the most, the device they use, the frequency of their visits, their real-time behavior, and many more.
Why Choose Netcore for Email
AI-Powered Email Delivery & Campaigns
Powerful Transactional APIs for seamless integration
Actionable Analytics for Email Intelligence
Advanced Customer segmentation, Send time & Subject line optimization
Managed Consulting Services by Email Experts
White-Glove Services for smooth onboarding
10-13% increase in conversions
6-9% increase in add-to-carts
30-60% increase in CTRs
15 Minutes to integrate
5 days for going online
5 weeks to see results
Netcore vs Others
Long story short to help you make the correct choice
Competition
Integration takes 240 hours
Personalization on some pages
No personalization on messaging
No ownership of KPI
Click-stream data
Netcore
Integration takes 15 minutes
Personalized boutiques & more
Personalization across communications
KPI uplift with proof of concept
Click & eye-ball data