Decoding the what and why of product experience
It's 2022, and users today are spoilt for choice. And by choice, we mean the millions of apps out there waiting to be downloaded on your user's device. This also means that it isn't simply enough to woo your users with creative marketing moves that get them to download your app. The experience you build for users post download will define your app's success story. Your user's journey within the product decides whether or not a user will stick to it. And all these interactions that take place within the app are precisely what product experience means. So how you draw out a clear path for your users within the product to take actions aligned with their motive is what product experience is all about.
It takes center stage from the start of the user journey, and this narrative stays the same throughout the remaining stages. It focuses on helping users realize the app's value in a short time and shows them the best way to use the app successfully. This includes delivering a smooth onboarding flow, suggesting the next best steps to users, giving contextual guidance as and when needed that helps users move across the funnel quickly and smoothly. It further makes the in-product interactions richer, personalized, powerful, and empowers your product to drive key business goals/metrics.
Now, the 'why' behind product experience is quite evident. Apart from the obvious problems they solve, apps are all about experiences. No matter how catchy the email or how timely the push notification is – if the product experience is broken, you're bound to lose out on your users. It is also, in fact, the primary product-led growth lever. A supercharged product experience keeps users hooked in a way that builds habit loops that keep users intact and coming back to your app regularly.
All said and done – we know what product experience is all about and, more importantly, why apps need to prioritize it. The next obvious question to answer is – how do we go about building/implementing product experience? How do you achieve all that we talked about so far? Questions are many, we know, but the answer lies in a single solution – A complete no-code product experience suite to help you create just the perfect experience for every mobile app user.
What does Netcore's Product Experience platform offer?
Netcore's no-code Product Experience platform is built to empower product and growth teams to deliver hyper-contextual, hyper-personalized product experiences to their mobile app users.
Here's how our platform's no-code capabilities help product teams like yours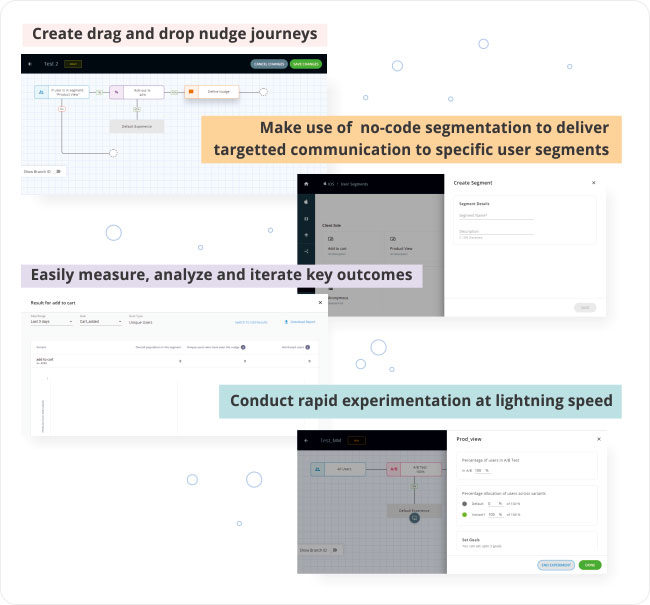 What's more? You can do all of this with minimal dependency on developers and engineers.
Moving on – let's get talking about what makes Netcore's no-code platform an integral part of your mobile app's growth story:
1. Deploy no-code contextual nudges and walkthroughs
Converting, engaging, and retaining users is tricky. While, of course, there are multiple channels to optimize these metrics, let us show you the no-code way to do it. Well, you read that right. Acing your key metrics just got a lot easier with a no-code DIY solution at your disposal. You can now successfully nudge your way to engage and retain users for a lifetime.
With our platform, you can create drag and drop nudge journeys without writing a single line of code. The no-code dashboard lets you easily define your nudge journeys, set the goals you want to achieve (in terms of conversion, engagement, CTR, and more ), and add critical app events.
A significant point to note here is that you can see all your app events (product_page, product_listing_page, add-to-cart, wishlist, and more) added to the dashboard in just a simple 2-step integration process. Our integrations with multiple analytics providers allow you to directly add all of your app events without passing them through Netcore's servers.
Triggering nudges further boils down to a simplistic flow-chart-based approach. Here, you can define your audience and create a nudge roll-out strategy by specifying the user segment you want to configure the nudges/walkthrough and set up the optimal time to make it live. You can also create segments based on events and attribute data using our intuitive segment builder. These factors give product teams much scope for experimenting with nudges. And in just a few clicks, you can trigger nudges at the right time to the target user segment.
Doing this keeps your users hooked to the app and motivates them to keep coming back to you.
What makes nudges even more appealing is the extent of customization available in terms of shapes, sizes, color, font type, CTA, language, and much more.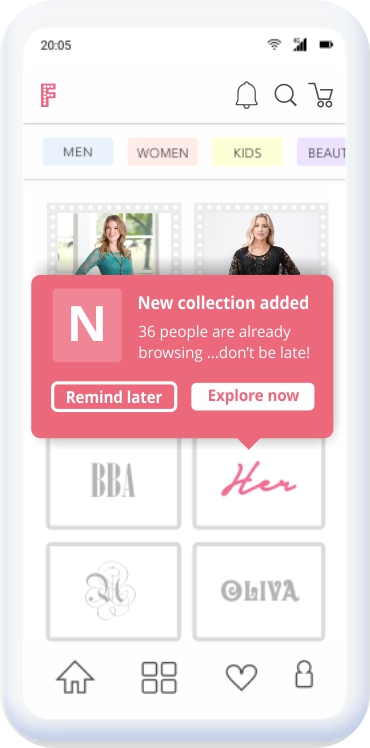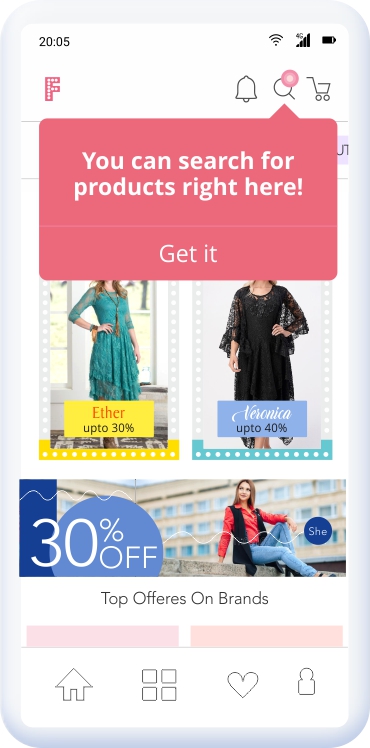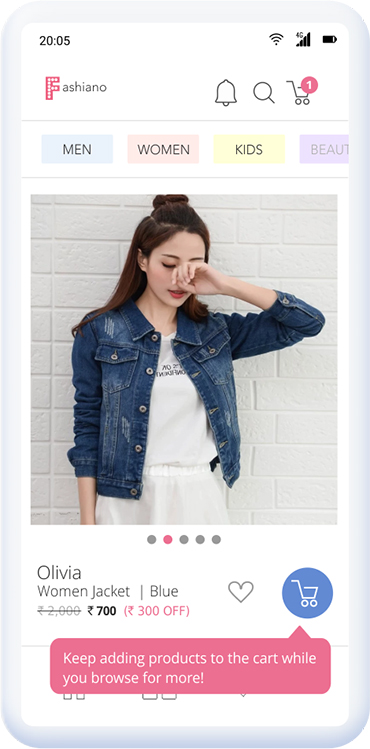 Moreover, you can tie these nudges to any app element (adding more context while introducing a new feature or suggesting an action to users) without interrupting the user's flow on the app.
And you can do all of this in no time.
Based on app events, you can trigger nudges (or a series of nudges) in real-time and keep tracking and optimizing the outcomes.
To sum it up, the no-code product experience platform offers you everything you need to drive growth. From segmenting your users, adding critical app events, creating and customizing nudges to deploying them in real-time – all of this happens in just under 15 minutes without eating up any engineering/development bandwidth.
2. Create zero-code user segments
There's no cap on the number of segments you can create with zero coding efforts. When it comes to user delight – context is everything. Unless you're sending out user-specific, relevant communication, no matter how great a product you built – users won't value it. So targeted communication is the real key to solving user needs and problems most effectively.
We know segmentation can get complex – especially when you have so much data coming in from multiple sources. But we've taken care of that for you. The robust segmentation engine is created to help you easily work with complex targeting conditions for nudging users. This is based on historical behavioral data like clicks, views, or real-time data like location and further integrates data from multiple platforms, including Amplitude, Segment, and MixPanel.
Based on these segments created, you can map out multiple user paths (containing a series of nudges) to help users make the most out of your app.
3. Build optimized user journeys
Nudges are all about the context. To create context-specific journeys, nudges must be shown at the right moment in the user journey. Every user follows a certain path on the app – for instance, in an ecommerce app, the user flow looks like – Sign-in → browse products → add to cart → check out. Place nudges at the most relevant points within the user journey flow where users are most likely to interact with the nudge and take action.
Again, multiple experiments can be conducted here, like testing nudge variations.
Having the user flow spread out in front and analyzing the points that lead to maximum conversion helps you offer 1:1 personalized experiences.
4. Conduct low-code A/B testing
Running rapid experiments is the way to build picture-perfect user experiences that your users love. Now imagine conducting these multiple experiments across different aspects of your app (from homepage layout to CTA button), multiple components of a specific feature, and rolling it out to specific user segments with extremely low coding/development efforts. That's what our platform offers to you – a low-code way of running experiments on the fly and to your users – the experience they prefer.
5. Release segment-specific features using feature flags
The golden rule of successful feature launches is – releasing specific features to only a relevant part of your user base. Not every feature is meant for every user. Our no-code solution gives you complete control over releasing segment-specific features, testing features, and even killing the feature. There's no need to drown in long development cycles anymore! A switch is all you need to release, measure, analyze and improve features.
You're adding to a richer and more powerful product experience by showing features to only relevant user segments. That too in minutes.
6. Track, analyze, and optimize metrics
You simply can't manage what you can't/ don't measure. Every nudge that you roll out has a significant impact on metrics like engagement and conversion. Understanding this impact is the last piece of the puzzle.
When we say track, we don't mean dozens of spreadsheets with complicated graphs – tracking and analyzing the outcomes is as easy as it reads with our product suite.
Event-based reporting gives you insight into the performance of the primary goal you set. And that's not all. The built-in analytics also gives you a clear picture of secondary goals set. (P.S – You can set unlimited secondary goals). The deep reporting across every user journey created sets the base for delivering unique product experiences at every journey stage.
7. Break down the SDK integration to a 2 step simple process
A day is all it takes to get up and running with our latest SDK integration. The highlight of this process is the ease of adding your analytics events from a 3rd party platform to Netcore's dashboard. Copy-paste a short snippet code, and you're all set to get started.
With user data privacy being a major concern for you, you can easily control the storage options for every data point in a first-of-its-kind setup. You can keep tracking critical app events on your analytics provider's platform yet choose not to send any PII to Netcore's panel.
Hassle-free integration with utmost privacy provisions for user data – can it get any better?
The mobile app industry is growing insanely, and so is the competition. With the ever-evolving needs of users, it's essential to stay at the top of your product experience since that's what primarily decides your app's fate. To make the long-term sustainable growth dream a reality, you must deliver personalized and contextual experiences to every user. Keeping this at the centre, we've designed our no-code product experience platform to help you drive key business metrics by offering solutions across multiple use cases that help you direct the larger app growth narrative.
We will now dive a little deep into the major use cases/solutions you can deploy our product for:
1. Onboarding
Make your user's first-time experience seamless with no-code nudges and walkthroughs. Create personalized zero code walkthroughs to help users navigate the app quickly and find value. Contextually introduce critical features that lead users to quicker activation and better D0 retention. Create new user onboarding journeys based on data points like – what actions retained users have taken on your app and which features they have interacted with the most. Based on this, you can chalk out every new user's journey and help them achieve their specific goals.
Bonus read: https://netcorecloud.com/blog/9-ways-to-enhance-product-experience-through-app-onboarding/
2. Feature Adoption
Supercharge user engagement or interactions with features using nudges to either inform users of a new/existing feature or instruct users on the steps to put the feature to use. Feature adoption nudges further help create habit loops that encourage users to know about the features and take action around it. This is what keeps users retained on your app. With nudges, the whole cycle of introducing a new feature to users, getting them to actually use it becomes much more contextual. Nudges are triggered based on the context and user intent, and this is what drives better feature adoption.
Learn the top strategies to drive feature adoption on your mobile app: https://netcorecloud.com/blog/blog-10-strategies-feature-adoption/
3. Conversion
There could be multiple potential drop-off points across the user path/journey. Understanding the user context at this point helps you know what you should do next to convert users. It can be nudging users towards the next step or highlighting a new feature that might solve their pain point at that moment. It could even be grabbing users' attention towards relevant discounts/offers. Depending on the user context, these can prevent user churn and lead to higher + quicker conversions.
4. Engagement
Keep users engaged on your app by leveraging real-time contextual nudges that deliver constant value to users and give them reasons enough to stick to your app. The vast nudge library gives you a chance to:
→ Roll out different nudges for different purposes – (for example – reminder nudges, alert nudges, survey nudges, and more)
→ Run continuous low-code experiments with nudge types
→ Contextually guide users to complete critical tasks.
5. Retention
Delivering smooth onboarding experiences, enabling contextual feature discovery and adoption, driving faster conversions, and enhancing overall app engagement helps skyrocket retention rates. The more users engage with your product, the more likely they're able to create strong habit loops that get them back to your app. Collecting real-time feedback and constantly iterating your app and its features further boosts app user retention.
Retention is tough, but our no-code product experience platform makes it easy.
Impact on key metrics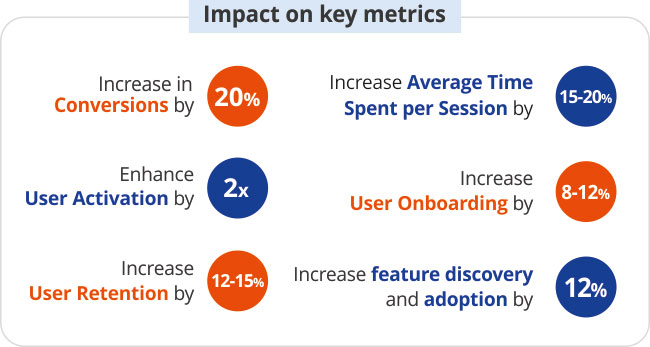 So, does this sound something like you would want to implement on your mobile app and see game-changing results? You know which button to hit → https://netcorecloud.com/product-experience/