In today's hypercompetitive world, brands need to stand out from the crowd. They need to constantly scale up to stay ahead of their competitors. Personalized marketing is a powerful tool that most brands use today to offer differentiated experiences to their customers, because a personalized experience is exactly what the customers want.
Personalization is all about delivering valuable content to the right user at just the right time on the right channel or platform. A whopping 91% of online shoppers would abandon a store due to a bad shopping experience. Personalization enables brands to deliver delightful customer experiences, and in turn, build a deeper relationship with them. It is important for marketers to decide how to effectively and efficiently personalize the customer experience. Personalizing a site by showing the user relevant content of interest is more likely to make them stick around and engage with your brand's website or mobile application.
The internet has changed the world in many ways. It has even changed the way people buy groceries. Visiting the store to buy grocery supplies used to be a weekly or monthly routine in most households. The events of the last year have changed the way customers shop, with them now heavily depending on online grocery stores to solve their shopping needs. Shopping online is a trend that is going to stay as customers have also realized that it's a lot more convenient.
The customer experience in grocery is extremely critical. While online grocery shopping is a convenient way and saves time, customers would also want eCommerce brands to understand their behavior, interests, likes, and affinities better and deliver personalized shopping experiences accordingly. In fact, More than 3 in 4 customers desire a more personalized shopping experience.
eCommerce retailers who invested in personalization have seen an ROI of at least 4X. Brands have also seen a significant uplift in other key eCommerce metrics like conversion rate, average order value, average revenue per user, revenue, etc.
Here are 15 concrete examples of personalization strategies adopted by leading online grocery brands that you could adopt to scale your growth. You can also gather deep insights into the impact these personalized touch points could have on your eCommerce site and mobile app.
Personalization: Make each and every customer of yours feel special
1. Show first-time visitors your appreciation by giving them a great deal
Offering new visitors exciting deals and coupons as soon as they visit your website is a great approach to grab their attention instantly and encourage them to make purchases. Consider a new customer who is accessing your site for the first time. You're working with hardly any behavioral data when it comes to this segment of customers. Hence, data points such as geolocation, browser type and version, access device, and so on are the ones that need to be leveraged to deliver a personalized experience for such customers.
You can offer discounts on certain products to these first-time visitors or freemium users and encourage them to sign up by providing their personal information like email ID, phone number, gender, and date of birth. Some of these data points can then become the core of your subsequent marketing activities.

Giving new visitors a discount coupon right away, just like Kroger does, will encourage them to take a closer look at your products because they know that there's a discount waiting for them at checkout.
2. Highlight the hottest deals on your home page
Face value is the most important aspect of any business, and an online brand's face value is determined by the homepage of its website or mobile application.
The best way to capture visitors' attention in a few seconds is to use the home page wisely.
Personalized homepage promotions influence 85% of customers to buy because they consume most of the content shown there.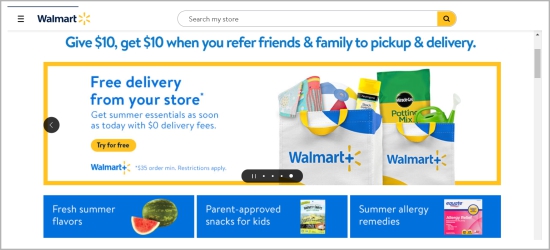 Customers will click through more if the most enticing discounts and offers are displayed on the homepage. Ensure that they are right in the eye line of the customers when they land on your home page as Walmart here has done.
3. Show the customers what's the talk of the town
The term 'trending' is the most trending word in today's world. Keep your customers informed about the products that are most in demand. They will be enticed to at least glance at the products if they see the trending products widget.

Amazon takes its personalization game up a notch by showing its customers the most trending products based on the customer's location to make it more contextually meaningful.
4. Keep your shoppers engaged with exceptional new products
Old items are continuously replaced by new ones. Customers always have the urge to have the new and latest products in the market. Thus, new products have a better possibility of selling faster.
You can showcase your latest products by deploying a 'New Arrivals' widget to capture the attention of your customers. This allows your regular consumers to quickly locate new products that they haven't come across yet. These products are bound to be popular amongst your customers as well.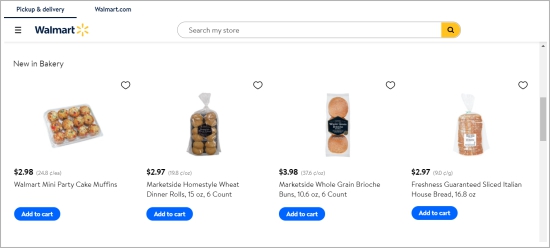 Walmart ensures that its new products grab more eyeballs.
5. Get your products the necessary attention by design effective product pages
Your platform's heart is your product display page. You must provide more information to consumers about the product they are interested in; otherwise, how will they know what functions it has?
Build an effective product page, and your traffic and conversions will explode.
If you don't, practically all of your marketing and promotion efforts will be in vain.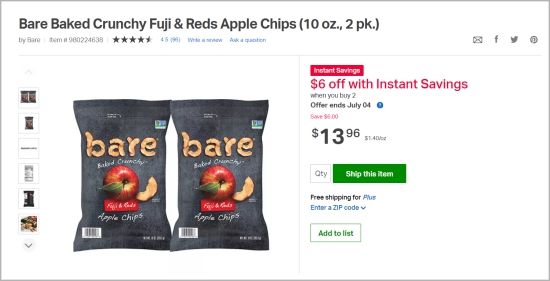 Ensure that adequate details of your product are available to ignite purchase interest.
6. Make relevant recommendations based on customers' interests and preferences
Show your customers products that are likely to be relevant to them. Understanding your customers' likes, interests, affinities, buying history, and purchase habits will help you recommend the right products that they are likely to buy. Customers are more likely to click and check out products if they have been personally recommended for them.
Offering personalized product recommendations based on customer behavior to capture your visitors' attention can help you generate up to a 120% increase in CTRs.

Encourage your customers to buy more with smart recommendations, like BJ's Wholesale Club.
7. Show 'recently viewed' products to the customers
Customers get lost when there are thousands of products on display. Customers usually click and view products only when they find something interesting. Show customers the products they've recently looked at to make it easier for them to keep track of their browsing history. Customers usually multi-task and involve themselves in a variety of activities when they shop online. Brands thus need to ensure that they make the lives of their customers a lot easier by showing products that were recently viewed to nudge them closer to purchase.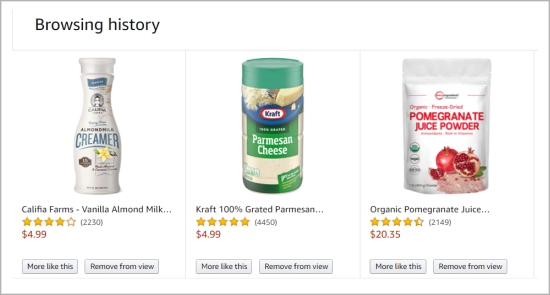 Amazon's 'Recently viewed widget' reignites interest in products previously viewed by the customer.
8. Increase your sales by cross-selling complementary products
Cross-selling is a clever way to increase sales by suggesting a supplementary product, and as a result, raising the average order value per active session. According to a study, 3 out of 5 (60%) retailers perceive an increase in average order value of 10% or more after personalization.
An intelligent AI engine may assess the browsing and purchase history and recent consumer behavior to generate appropriate complementary product recommendations that can be used in conjunction with the most likely to be purchased product.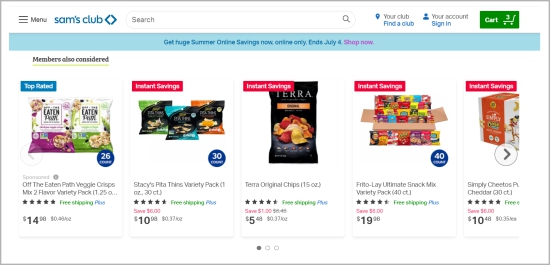 Bump up your conversions by cross-selling products like Sam's Club
For example: If a customer is about to buy a packet of bread, you can offer them a complimentary item. You could offer them cheese, sauces, or some veggies. Something that allows them to get more out of their purchase while simultaneously resulting in a higher profit margin.
9. Optimize your revenue by upselling
Upselling is another clever sales and marketing technique that involves persuading a customer to buy a more expensive item. The goal is to increase the size of the sale you've previously made. Or, in more formal terms, to increase the Average Order Value (AOV) of your customers.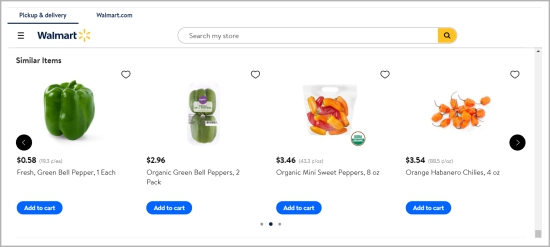 Subtly upsell products the way Walmart does. Here's Walmart recommending identical but slightly more expensive items. Every time a consumer transacts on your platform, there's an opportunity to upsell high-end products by delivering accurate product recommendations.
10. Nudge your customers towards purchase through Web Messages
When a consumer remains active on the platform for an extended period of time without transacting, a pop-up message can be triggered to get the customer excited. You can make the pop-up message more tailored to increase conversions. These web messages could be used in a variety of ways. You could show your customers some of the latest deals or discounts, could show them the new products or the products that are currently trending. You could even show them personalized product recommendations based on their browsing history.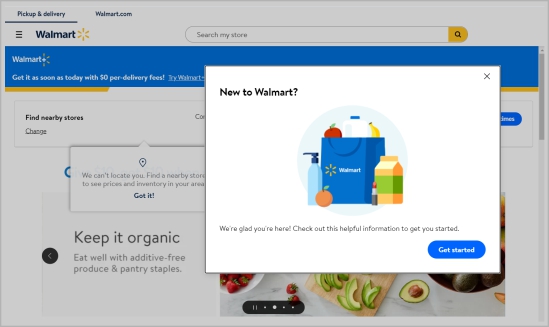 You can nudge your customers towards purchase by guiding them as Walmart does.
11. Prevent your customers from dropping off the website through Exit Intent pop-ups
If a customer has been inactive on your website for a while or is on the verge of exiting your website, an exit-intent pop-up can encourage them to keep shopping. It's a targeted attempt to keep a potential consumer on the page.
When used effectively, pop-ups can increase your conversion rate by an incredible 10%. Keep customers on your platform by displaying a personalized collection of products they just can't pass up on.
Exit-intent pop-ups are usually designed to reduce bounce rates or increase click-through rates but clever pop-ups can even boost conversion rates.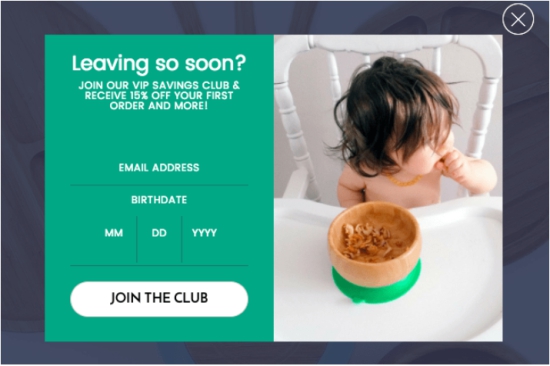 Don't let your users go without transacting.
12. Personalize your recommendations based on occasions or festivals
Creating seasonal marketing initiatives demonstrates that you are dedicated to serving your customers with loads of care. Holidays are a time when people's emotions run high, and this is the time when customers make more purchases than usual. Grab this opportunity by showing them products related to the season or occasion or festival that's coming up and appeal to the emotions of your customers.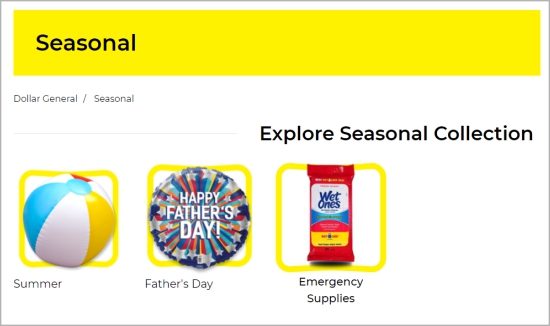 Dollar General makes extensive use of the seasons, festivals, and occasions that are lined up. During the holiday season, adding some tailored offers, discounts can boost your sales.
13. Reduce cart abandonment by sending reminder notifications
Customers adding products to their cart for checkout and then leaving without completing the transaction is a common phenomenon in eCommerce. If a customer has added products to the cart but has been inactive for a long time or has just exited the platform, web push notifications can be triggered to remind the customers that there are products waiting to be checked out.
If the customer has not reacted to the web push notification, a personalized reminder email can be sent to these customers to remind them that there are products in the shopping cart. You can also offer deals or discounts to lure them back to the website or app.
Bring your customers back onto your platform just like Costco does by sending out reminder emails.
14. Reactivate customers by sending personalized communications
The most crucial investment any company can make is in customer retention. This is because acquiring new customers is five times more expensive than retaining existing customers. You'll want to hang on to a new customer for dear life once you've gone to the trouble (and expense) of acquiring them.
You must make certain that your Customer Lifetime Value (CLTV) is greater than your Customer Acquisition Costs (CAC).
Customers can drift away and cease responding to your prompts. When this happens, it's critical to be aggressive in your efforts to reclaim them. Sending personalized communications to them through multiple channels is an effective way to do so.
If your customer hasn't uninstalled the app but hasn't visited your website or app for a substantial period of time, you could trigger personalized app push notifications to regenerate interest. Otherwise, sending personalized emails is a good way to pull your dormant customers back onto your website or app.
Bring your dormant customers back onto your platform with personalized emails the way Qtrove does by sending out inviting emails with discount offers.
15. Provide accurate search results to your customers
Personalized search results for your internal site search are based not only on standard ranking considerations (relevancy, content boosting), but also on information the search engine has about the user, such as their location, language, search history, or device.
Personalized search results are more accurate and relevant to the specific customer, helping them to quickly find the products they are looking for. Accurate search results make customer life so much more convenient and no wonder more than 7 in 10 shoppers (71%) use the search bar on a regular basis.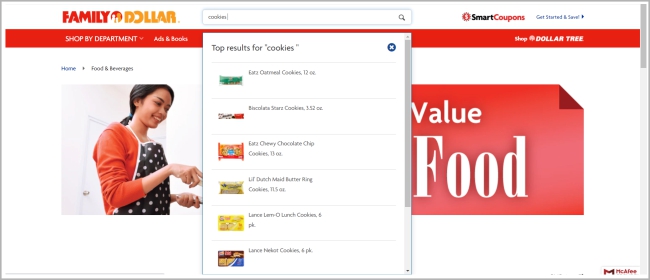 Family Dollar is good at showing personalized search results that take customers closer to purchase. For instance, if you simply type 'cookies' into the search box, the recommendation engine will automatically return the best search results, including several cookie types.
Make your business more profitable with personalization
7 in 10 retailers who invested in personalizing CX have seen an ROI of at least 4X. According to a study, retailers witnessed a 45% rise in conversion rates after investing in personalization.
Personalized recommendations are important to your online store. In fact, they are so crucial that if online eCommerce business owners don't start to implement them, they run the risk of losing potential customers because their competitors already are.
Customers want to feel special, and personalized recommendations help them do this. The important thing is that you customize the recommendations based on the customer, not the product.
If you're not using it yet, we hope you see how you can improve your marketing efforts with personalized recommendations.
So what are you waiting for? Start personalizing recommendations today by visiting us at Netcore Cloud.