Another milestone for Netcore
After 23 years of delivering unmatched services and path-breaking acquisitions last year, we present to you our renewed identity as Netcore Cloud.
Netcore Cloud offers a host of world-class martech and SaaS platforms that empower you to build incomparable digital experiences for your customers, seamlessly.
The rebranding is the result of our journey that has transformed through the years. Way back in 1997, we started out as an end-to-end Linux based messaging, collaboration & archiving solutions provider. Today, we are a globally recognized SaaS leader, providing a full-stack martech platform to more than 5000 brands across 18 countries, and aggressively expanding our presence in the US, EU and South America.
Why did we change?
We came to realize that new age customers are constantly looking for 'martech clouds' – a solution to the fragmented landscape of thousands of marketing tools and vendors. Businesses are struggling to find a partner who can provide experience and support across their digital marketing, whether it is orchestrating communication journeys, personalizing websites, optimizing in-app user experience, or ensuring their emails are delivered in the inbox, at the right time.
Netcore Cloud equips marketers with all the tools they need to deliver the best-in-class experience to customers under a single, integrated, platform.
Along with the new name, we are happy to announce the launch of our newly designed website. It is faster, easier to navigate, and more user-friendly. We wanted to make all the information regarding our products, services, resources, and updates to be easily accessible for everyone.
In forming the Netcore Cloud, you will see name changes in many of our products. And again, the changes go far beyond the names. You will see more integration between our tools, and updates to the UI/UX to further enhance the experience of using our platform. You will see new, highly-innovative features, and the deep intelligence driven by our AI engine, Raman.
Netcore products span the 3 E's – email, engagement and experience to ensure that you grow with the most important 'e' – exponentially. That is why we have been focusing on strengthening our single stack, ensuring we can seamlessly marry data with communications to provide your end-customers the best omnichannel personalisation possible.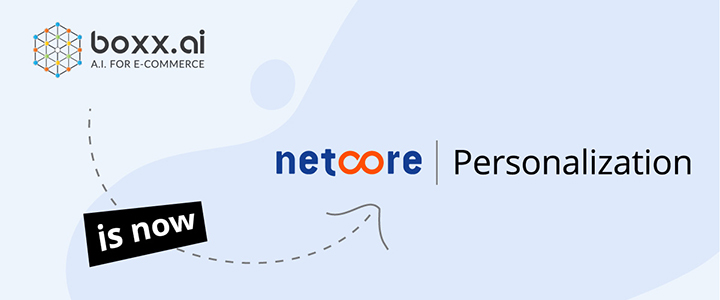 Netcore Personalization, formerly Boxx.ai, harnesses the power of customers' eyeball, intent, behavioral, demographic, and device data among others to provide the most relevant and personalized experience for every user across all touch-points of the app and website, with a 15-minute integration process. Netcore Personalization helps brands improve conversion rates by upwards of 15%, enhance the behavioral and purchase predictions by 20%, and multiply the marketing ROI by 10x – 15x via hyper-personalized and contextual product and content recommendations.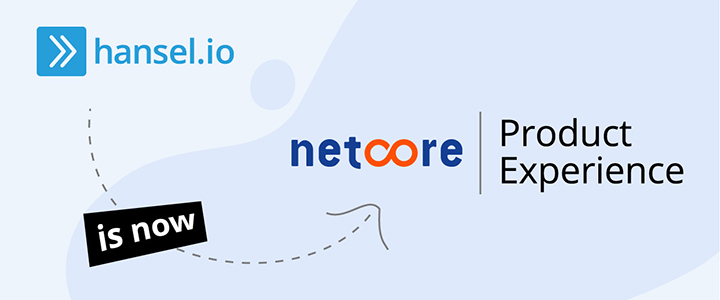 Netcore Product Experience, formerly Hansel.io, enable marketers and product managers to place Contextual Nudges & Walkthroughs at the most appropriate time in the customer's journey. This would continuously enhance the experience for app users and website visitors across all the messaging channels. A better customer experience would directly impact user activation, conversions, feature adoption and engagement on app & web.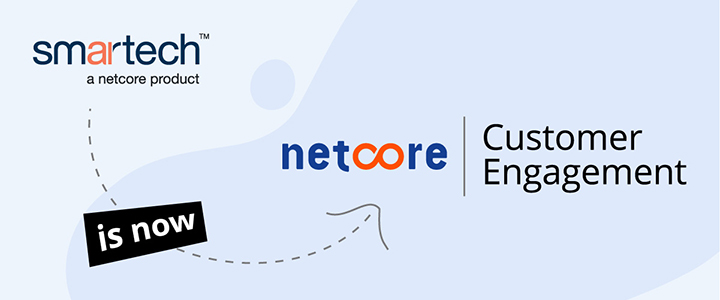 Smartech now has a fresh name, Netcore Customer Engagement, which continues to empower marketers & product managers to analyze user behavior and engage across channels, website & app with powerful features like Journey Orchestration, Segmentation, Smart Push, User Behavior Analytics & many more.
The AI-powered email delivery platform, formerly Pepipost is now be accessible as 'Netcore Email API'. With this new identity we will continue to make email sending simple, reliable, and intelligent for marketers.
The road ahead
We believe our achievements to be the north-star, our constant, and we will continue to fuel our vision to reach the sky, to keep striving towards excellence and raising our own bars.
As you notice changes in our website, social media profiles, and our communications, we would love to hear from you. We assure you that the whole exercise does not affect any of our ongoing business offerings and services. You are always welcome to reach out with any thoughts, requests, or even compliments.