We are delighted to announce that Netcore Cloud has received the highest overall customer rating (4.6/5) as a Customers' Choice based on 90 reviews in the 2021 Gartner Peer Insights 'Voice of the Customer' Report for Email Marketing Platforms as of September 2021.
Netcore Cloud is amidst the three vendors who got the Customers' Choice Distinction where we are rated highest in "Overall Rating" and "User Interest and Adoption." We have also received a rating of 4.6/5 for "Support Experience" with 88% of reviewing customers willing to recommend our product to others, as of September 2021.
The Gartner Peer Insights Voice of the Customer Report
Gartner Peer Insights is a free peer-review and rating platform designed for enterprise software and services decision-makers. Reviews go through a strict validation and moderation process to ensure they are authentic.
What Is Gartner Peer Insights "Voice of the Customer"?
The "Voice of the Customer" is a document that synthesizes Gartner Peer Insights' reviews into insights for IT decision-makers. This aggregated peer perspective, along with the individual detailed reviews, is complementary to Gartner expert research and can play a key role in your buying process, as it focuses on direct peer experiences of implementing and operating a solution. In this document, only vendors with 20 or more eligible published reviews during the specified 18-month submission period are included. Reviews from end-users of companies with less than $50M in revenue are excluded from this methodology. See the full "Voice of the Customer" methodology here
Netcore Cloud achieves the highest overall customer ratings of 4.6/5 as a Customers' Choice
We believe, being recognized in the Gartner Peer Insights Customers' Choice quadrant is a testament to Netcore Cloud's belief in always being customer-centric. We are grateful for the ratings, and we promise to keep innovating to meet the evolving customer needs.
88% of the users recommend Netcore Cloud email marketing platform
In our opinion, the recommendations are the result of our consistent performance across product capabilities, sales, deployment, and support experience. Netcore's platform helps brands strike the right conversation with their customers to increase engagement rates, improve conversions, and strengthen brand trust.
From send-time optimization to predictive analytics, from crafting subject lines to building customer journeys, Netcore email marketing is an all-compassing solution. Driven by AI, the platform helps create and deliver emails that are contextually relevant, perfectly timed, and highly personalized.
We are here to make a difference in the email industry and help brands win big.
100% of the users gave us 4 and 5-star ratings
It is an honor to achieve 5-star and 4-star ratings from 66% and 34% of the global clientele, respectively. About 5000+ enterprise brands and 25+ unicorns trust us for their promotional, triggered, and transactional emails that add up to 17 billion+ emails/month. Netcore Cloud touches 15% + of the world's population through emails. Our scalable infrastructure is powered by AI and helps our top-tier customers send 100 million+ emails/day.
Here's what Netcore Cloud's email Marketing customers had to say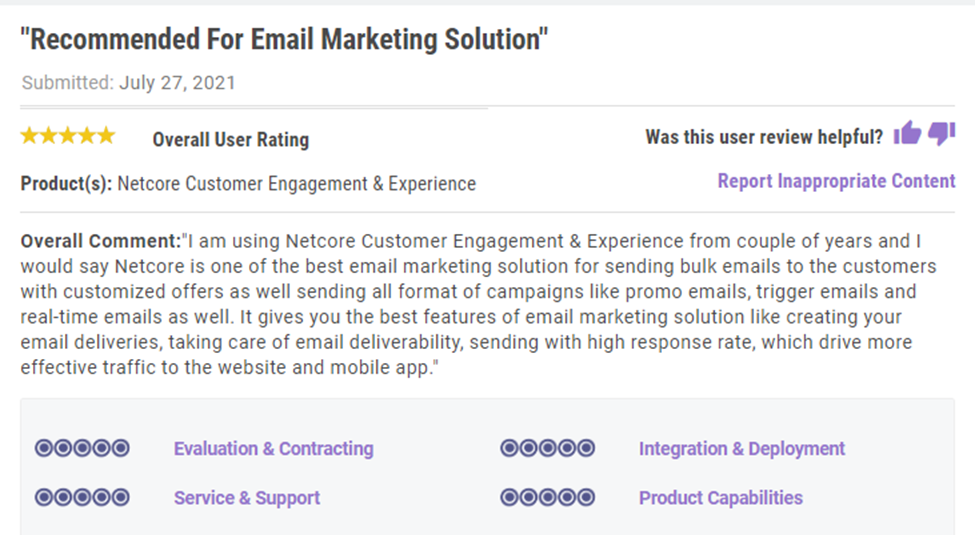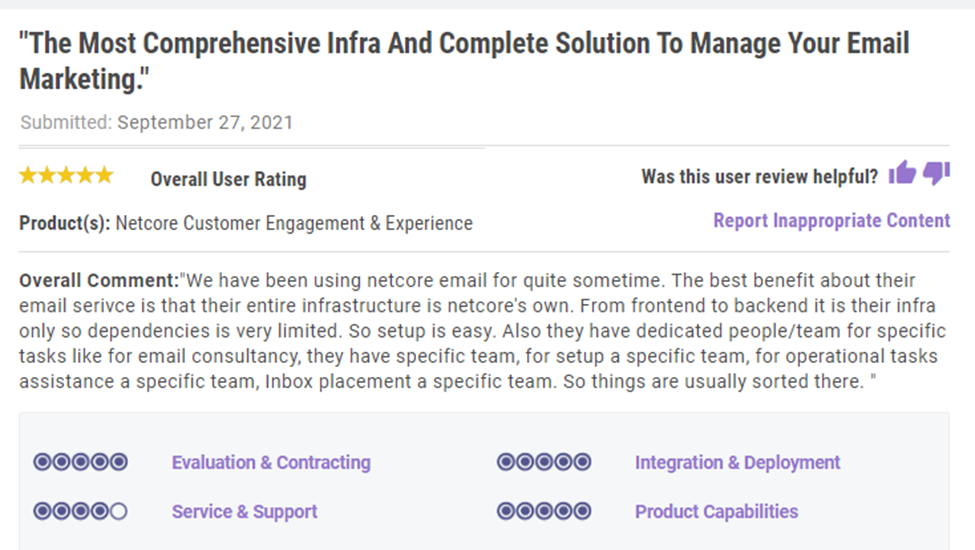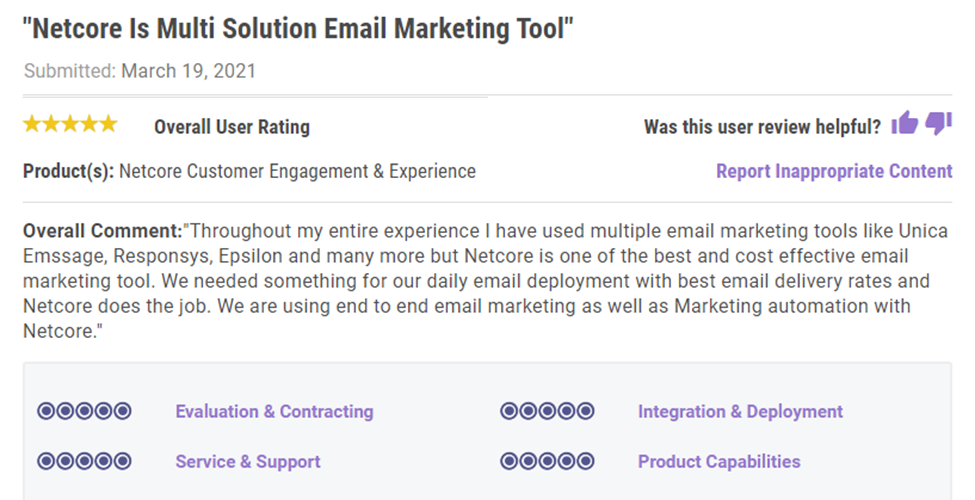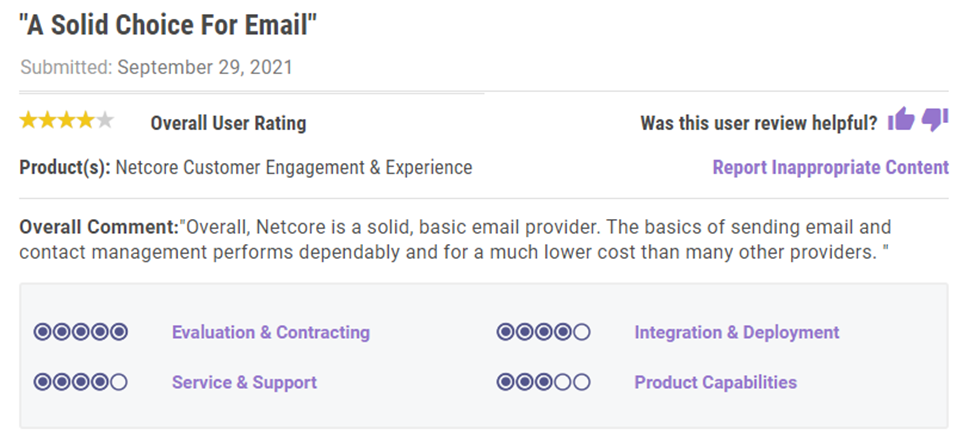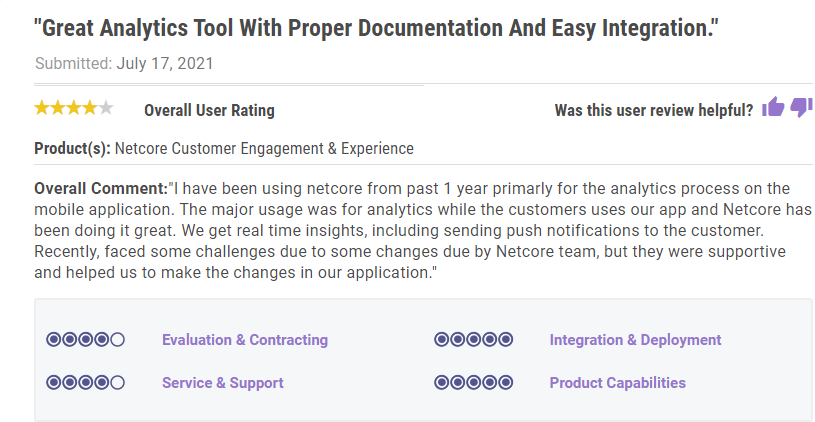 Customers' Choice in the "Voice of the Customer" report
We are happy and proud for being a Customers' Choice in Gartner. As we welcome new brands into our family, we keep innovating with the right combination of technology and people.
We are also recognized as leaders five times in a row for transactional and email deliverability categories in G2 reports (a peer-to-peer review site and the world's largest tech marketplace).
The way forward
As we begin 2022 on a high note, we would like to thank each of our customers for believing in us. We commit to work even harder on our technology capabilities and contribute more to our customers' growth.
*Gartner Peer Insights, "Voice of the Customer": Email Marketing, By Peer Contributors, November 25, 2021.
Gartner Disclaimer:
The Gartner Peer Insights Customers' Choice badge and Gartner Peer Insights are trademarks and service marks of Gartner, Inc., and/or its affiliates, and is used herein with permission. All rights reserved. Gartner Peer Insights content consists of the opinions of individual end-users based on their own experiences with the vendors listed on the platform, should not be construed as statements of fact, nor do they represent the views of Gartner or its affiliates. Gartner does not endorse any vendor, product, or service depicted in this content nor makes any warranties, expressed or implied, with respect to this content, about its accuracy or completeness, including any warranties of merchantability or fitness for a particular purpose.