Sendo is Vietnam's largest home-grown e-commerce retailer and one of the top-10 online commerce platforms in South East Asia, connecting over 30 million buyers and 500,000 sellers nationwide.
With product listings in the categories of men's fashion, women's fashion, mother and baby, cuisine, homeware, cosmetics, tech accessories, and entertainment and sports, Sendo assists online shoppers in discovering daily deals, promotions, and handbooks.
Sendo's online and mobile interfaces were both aesthetically pleasing, offering a very modernized look that was appealing to every customer. But Sendo was getting sabotaged by its failure to personalize customer engagement on its website and mobile app! It makes sense, doesn't it?
Major challenges to Sendo's success:
As an app-first e-commerce platform, it was important for Sendo to deliver personalized communications to all their customers on time without any delay.
Low conversion rates and reduced sales
Sendo recognized that timely personalized communications are one of the most critical elements for improving customer engagement but Sendo's minimal customer engagement on its website and mobile app made it difficult for the e-commerce giant to personalize customer journeys, resulting in poor conversions and sales.
Inability to send timely & personalized communication
It's great to offer multiple time-limited promotions for your customers. But like a good friend, poor time management is the last thing that customers want to deal with.
Sendo also tried its best to help its customers get the most out of their business by offering multiple time-limited promotions. But when you play with time, it pays to be careful. Apparently, at Sendo their inability to send timely & personalized communication to customers resulted in poor engagement.
Manual dependency for campaign set-up & launch
Businesses usually rely on their developers to create and launch in-app & on-site marketing campaigns. As it consumes considerable time and resources, Sendo realized that with all the initial integration set up, it was going to take a lot of time if they continued to depend on their developers for sending personalized communications. They needed to find a better and agile solution if they had to increase customer engagement and grow the sales. So, they turned to Netcore Cloud.
Netcore's full-stack Customer Engagement platform helped 'Sendo' to:
Increase customer engagement across different channels
No matter how big or small a company is, making an effort to understand your customers and deliver them the right message at the right time will always be a major advantage.
Netcore's full-stack Customer Engagement platform assisted 'Sendo' in increasing customer engagement across their website and mobile app across different channels, allowing them to communicate with customers at the right moment and in the right context for a smooth web-to-app experience.
Deploy automated and personalized marketing campaigns
Having a consistent and personalized customer engagement strategy is vital for keeping customers loyal – particularly in the increasingly competitive world of e-commerce.
By bridging the gap between departments and delivering a seamless experience from Lead to Loyal Customer, Netcore's platform helped Sendo to deploy automated and personalized marketing campaigns across the entire customer lifecycle in a matter of minutes, making time to go live almost instantly
Increase its deliverability and customer reachability
The first step in creating trust with your customers is to be accessible, be easily reachable, and engage with them at each stage of their customer experience.
With Netcore Cloud's smart push technology Sendo increased its deliverability and customer reachability, thereby reducing resource dependency and increasing online transactions.
Implementations by Netcore Cloud that helped Sendo to grow its business are:
Web messages, that drive engagement
With Netcore Cloud, Sendo leveraged real-time personalized web messages. A web message can help create a more seamless experience by showing users what they want to see. By using personalized web messages, Sendo is able to build a better relationship with its customers. That's right! Sendo has an improved relationship with its customers because it uses web messages to deliver the right information to the right people at the right time. This improves efficiency, increases revenue, and fosters loyalty.

These contextual web messages triggered basis users' activities on the website, redirecting the users to the corresponding page on the app, thereby ensuring a seamless experience.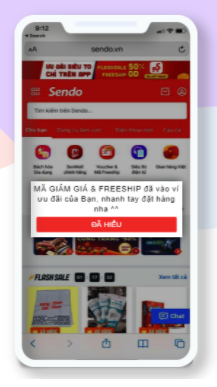 Smart push notifications, that grabs customers attention
Now, when it comes to engaging with customers sending push notifications is a great way to reach out and give them a reason to keep using your application.
But, it takes a lot of time and effort to create a successful push notification campaign. It has to be well-timed, relevant to the consumer, and it has to be useful. If you're using the right technology, you can greatly increase the customer experience. Sendo started to leverage Netcore Smart Push, an industry-first technology to deliver time-sensitive relevant push campaigns to their entire customer base. That also drastically boosted engagement and conversions.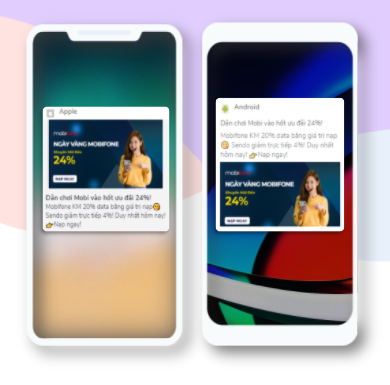 Journey orchestration, that automates communication across the customer life cycle
By utilizing drag-and-drop journey builders, Sendo was able to take several automated communications live across the customer life cycle in a matter of minutes without any coding or programming. This helped them reduce their in-house time & resource investment significantly. To highlight a couple of interesting use-cases: If a customer had viewed any product or added a product to the cart on the web or app and did not complete the purchase, the customer would automatically get a series of reminders in form of app and web push notifications for the same product after a certain interval of time. Sendo also leveraged the omnichannel journey builder to segment and target selective users to yield repeat purchases.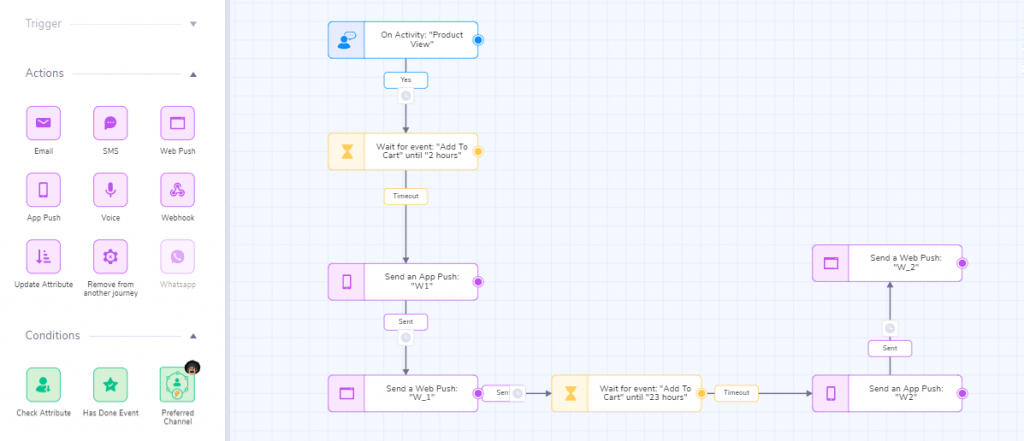 Automated journeys, an effective way of engaging your customers at different stages of the buying process
As any business knows, getting people to convert is not always easy. But what if you could do it by simply sending an email to users who are abandoning their carts?
Automated journeys are a great way to engage your customers. An automated journey can be a series of automated emails that are automatically sent to a customer at a specific stage of the buyer's journey. The automatically sent emails can be personalized so that the email is customized to the individual customer.
With Netcore's Customer Engagement platform, Sendo set up several smart automated journeys across the customer lifecycle to increase conversions. For Eg: Automated Cart Abandonment Email to drive conversions & sales. These emails were sent out to their customers after they had added items
to their cart and left the checkout process without completing the purchase. The emails were customized to the individual and sent based on their shopping and buying behavior.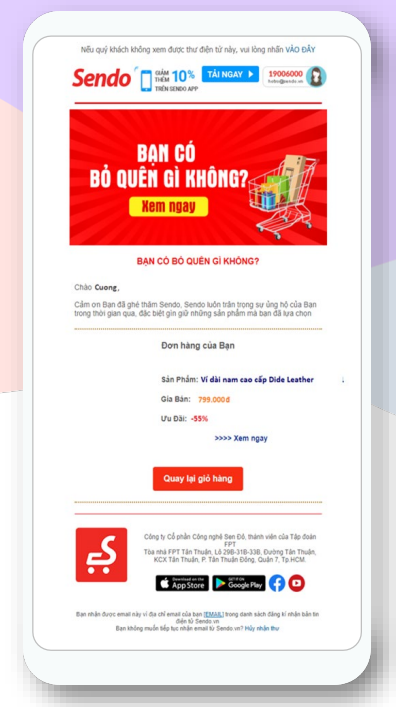 The customer journey isn't a straight line. Track and understand
Growth consultants at Netcore helped Sendo optimize its website and app tracking via additional integrations and APIs to enrich customer data.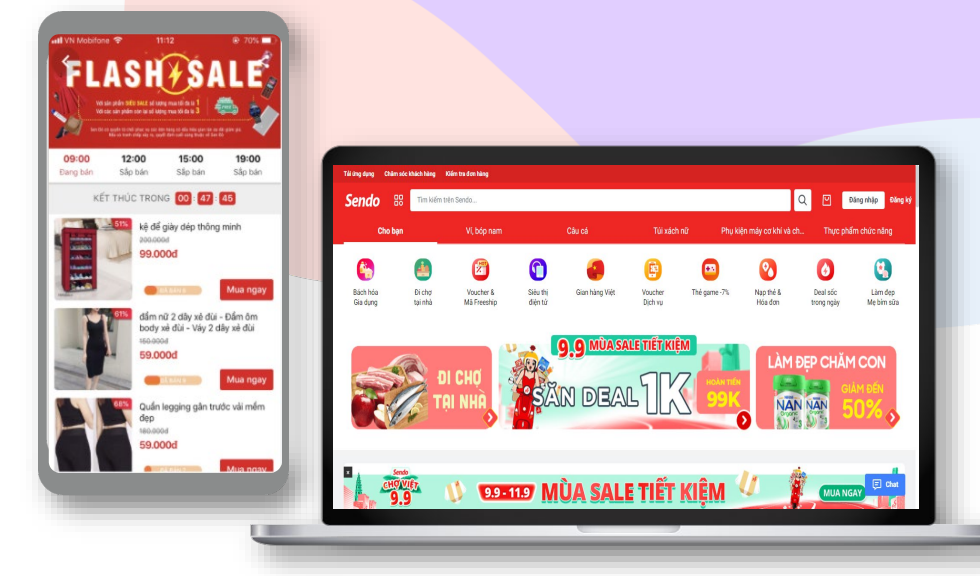 Sendo and Netcore: A good match for an endless number of reasons: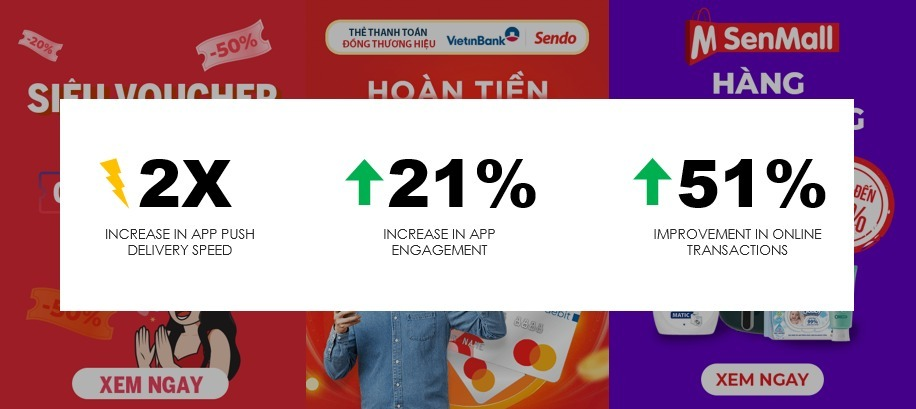 With Netcore Cloud Sendo enabled:
2x: Speed at which app push campaigns were delivered to their entire customer base.
26%: Direct web traffic to the app with web messages.
21%: Increase in number of app launches via app push notifications
51%: Increase in online transactions
"Netcore Cloud has helped us increase our app engagement by 21% and overall online transactions by 51%. The Netcore team has always ensured excellent service levels and has consulted us to leverage the best solution for all our business needs.", said Mr. Duc Pham, Buyer Engagement Director at Sendo.

The biggest challenge in the digital age is to make your customers feel special
In today's fast-paced digital world, users continuously seek highly personalized and relevant communication. For businesses, this means how to effectively reach and engage with their customers, even if their customers do not subscribe to their newsletter or visit their websites on a regular basis.
This trend creates a new challenge: how to "reconnect" and engage with these customers. A solution is to provide a seamless multi-channel experience that seamlessly bridges the online and offline world and makes the interactions more seamless for customers. This helps businesses to communicate and interact with their customers and create more relationships and stronger bonds. Sendo adopted more robust multichannel strategies to deliver a cohesive brand experience in order to remain competitive.
Digital experience is a vital part of any app-first company. Whether you're an eCommerce tech business looking to increase conversions or an enterprise tech business looking to nurture relationships, Netcore can help you with everything you need to grow your business. Read our new report on what are the top 5 trends for 2021 in-app engagement and product experience to increase retention and boost app engagement.