Netcore Cloud has received the highest overall customer rating (4.6/5) as a Customers' Choice in the 2022 Gartner Peer Insights 'Voice of the Customer' Report for Email Marketing Platforms.
Netcore was rated highest in "Overall Rating," "Support Experience," "Deployment Experience," and "Sales Experience." A whopping 89% of reviewing customers are willing to recommend our product to others as of November 2022.
What Is Gartner Peer Insights' "Voice of the Customer"?The "Voice of the Customer" is a document that synthesizes Gartner Peer Insights' reviews into insights for IT decision-makers. This aggregated peer perspective, along with the individual detailed reviews, is complementary to Gartner expert research and can play a key role in your buying process, as it focuses on direct peer experiences of implementing and operating a solution. In this document, only vendors with 20 or more eligible published reviews during the specified 18-month submission period are included. Reviews from end-users of companies with less than $50M in revenue are excluded from this methodology. See the full "Voice of the Customer" methodology here.
Netcore Cloud earns the highest overall customer ratings of 4.6/5 as a Customers' Choice for the second year in a row
Being recognized in the Gartner Peer Insights Customers' Choice quadrant for the second year running is a testament to our deep commitment to customer success and our customer-centric culture. The rating further motivates us to continue solving problems for our customers and innovating to help them stay ahead of the competition.
"We are immensely proud to be recognized as Customers' Choice in Gartner Peer Insights 'Voice of the Customer': Email Marketing in 2022," said Kalpit Jain, Group CEO, of Netcore Cloud."The sole reason behind this recognition is our focus on customer success. Our email marketing platform has always been a step ahead in delivering value to our customers and helping them achieve their business goals. We look forward to continue disrupting the email space and empowering our customers with email 2.0, AMP Email and the latest in email tech."
89% of the customers recommend Netcore Cloud!
Our customers' recommendations are the result of the ongoing value that our platform provides to their businesses. Netcore Could helps brands create a hotline with their customers, increasing engagement, conversions, and customer lifetime value.
Netcore email marketing is a one-stop shop for everything from send-time optimization to predictive analytics, from crafting subject lines to creating customer journeys. Our AI-powered platform helps create and deliver contextually relevant, perfectly timed, and highly personalized emails.
What our customers had to say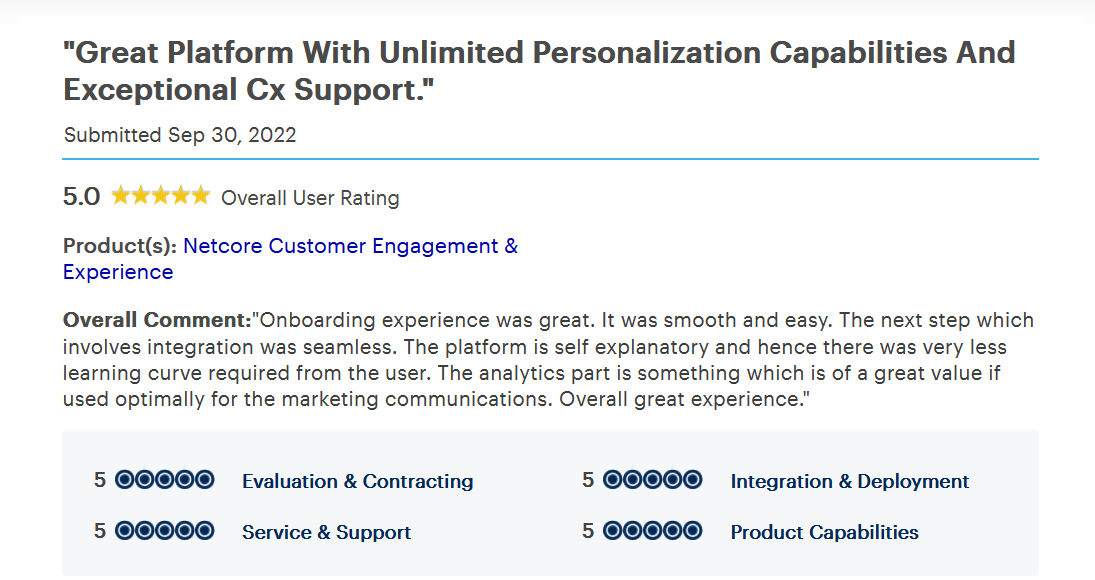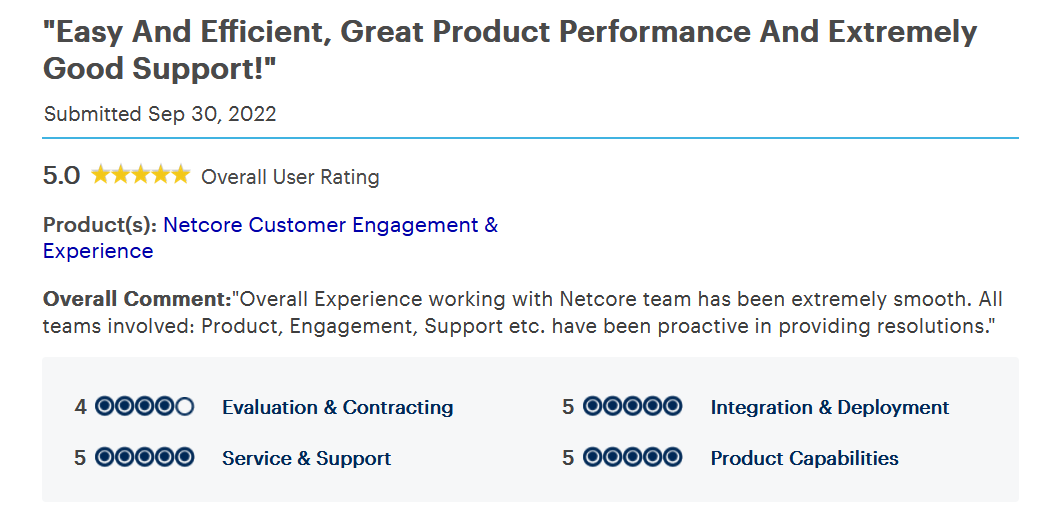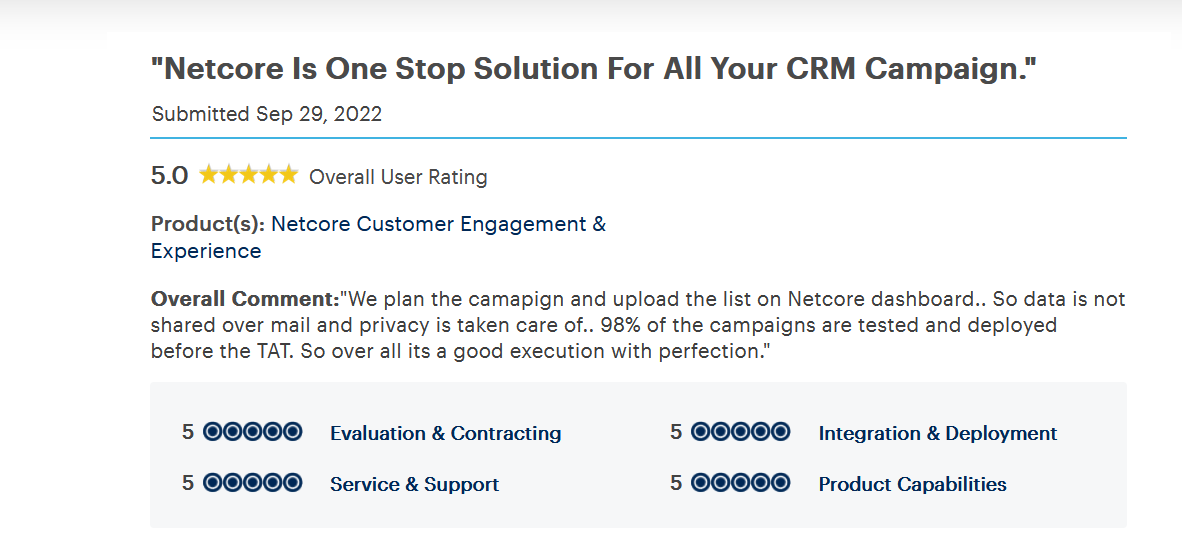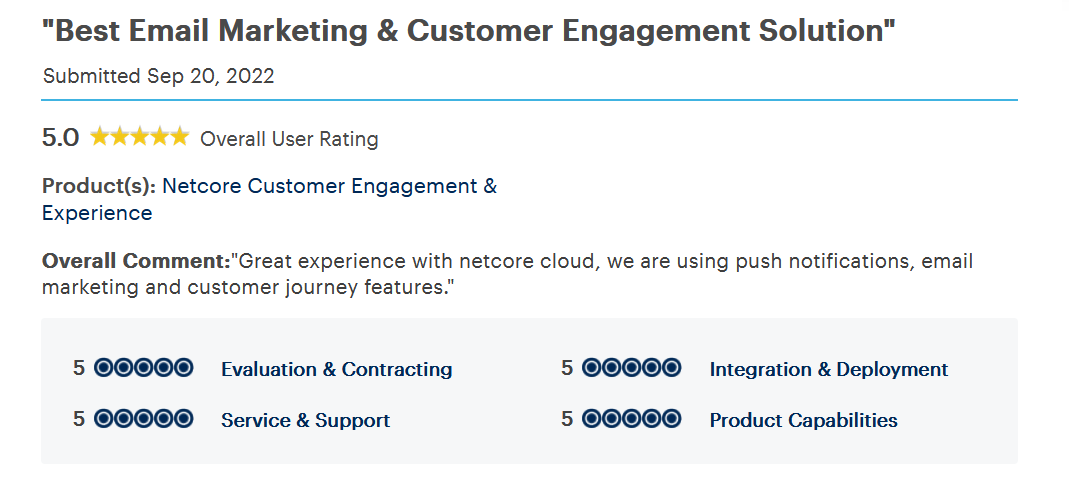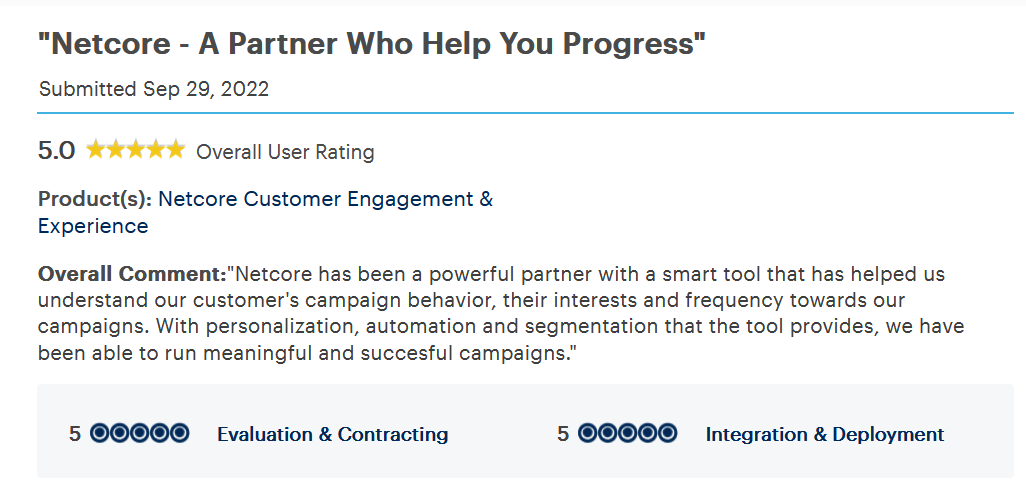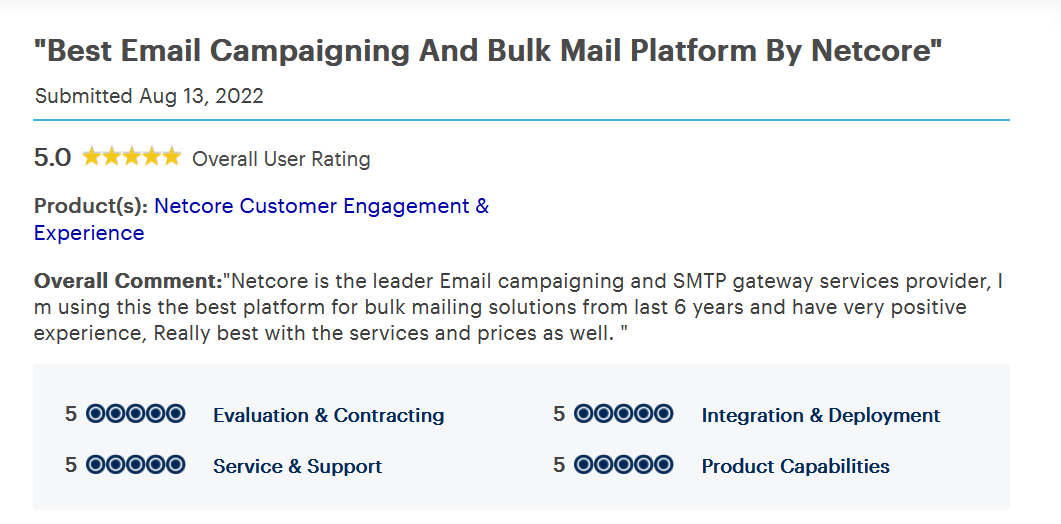 What is the future of Email Marketing?
Emails today should be able to offer rich, engaging, interactive experiences that bring modern app functionality directly into the email inbox. Accelerated Mobile Pages (AMP) for Email does exactly that! It is a Google-created open framework that allows marketers to embed website/app-like user experiences within emails.
These AMP-powered email experiences deliver a significant lift in core KPIs for marketers who have begun testing them and are slowly changing the face of email as we know it. At Netcore Cloud, we frequently see a 7x to 20x increase in conversion metrics for AMP-enabled emails, representing a significant increase in overall program KPIs for some senders.
We believe AMP for Email is the most exciting development in the channel since HTML, and it will significantly disrupt emails!
Looking ahead
Netcore is ending 2022 on a high note. Being recognized as a Customers' Choice in the 2022 Gartner Peer Insights 'Voice of the Customer' Report for Email Marketing Platforms is a great honor. In September, Netcore was also named a leader by G2 across the entire breadth of our services and products: Marketing Automation, SMS Marketing, Push Notifications, Email Deliverability, Transactional Email, Personalization, Marketing Platforms, and A/B testing.
We thank our customers for placing their trust in us and helping us receive such accolades. This motivates us to continue creating innovative solutions to help our present, and future customers excel.
*Gartner Peer Insights, "Voice of the Customer": Email Marketing, By Peer Contributors, November 17, 2022.
Gartner Disclaimer:
The Gartner Peer Insights Customers' Choice badge and Gartner Peer Insights are trademarks and service marks of Gartner, Inc., and/or its affiliates, and is used herein with permission. All rights reserved. Gartner Peer Insights content consists of the opinions of individual end-users based on their own experiences with the vendors listed on the platform, should not be construed as statements of fact, nor do they represent the views of Gartner or its affiliates. Gartner does not endorse any vendor, product, or service depicted in this content nor makes any warranties, expressed or implied, with respect to this content, about its accuracy or completeness, including any warranties of merchantability or fitness for a particular purpose.