For the Online Education (OE) industry, it is the best of times during the worst of times in human history.

The pandemic brought all educational institutions across the world to a standstill. Since then, students and professionals alike have turned to online resources to learn, upskill, and fulfill their educational needs.

The OE platforms are currently predicting a V-shaped recovery in their revenue trend, with users preferring the online method over offline learning. In 2021, the industry is growing at a very rapid rate; some numbers that reflect the tremendous growth of OE platforms since 2020:
Udemy released their consumer data post-COVID-19, reporting a 425% increase in enrollments since the pandemic started,
When thousands have been laid off across the globe, Upgrad has doubled their hiring to meet demand,
●     77% of educators believe that online learning is just as good as traditional learning, if not better. Online degrees cost so little: 80 times less than traditional degrees.


Despite the boom, some learner-based obstacles persist. Since the last year, many OE marketers have been facing several challenges:
Early user drop-offs: According to the research on OE platforms, 85% of the learners end up leaving the course midway. The most vulnerable point for a learner to feel disengaged seems to be after week 1 of enrollment. Keeping the interest levels of the learners intact throughout the course duration is a challenge.
Less perceived value: Value positioning — to reflect the benefits and features, and justify the costs of the courses — is lacking for a lot of the brands. There is a need to build a strong value positioning and communicate it effectively.
Need for guided learning: According to a study on online courses, the slowest student takes 5 times as long to learn as the fastest; some learners require 1:1 guided learning. Combined with the lack of support services for students, face-to-face instruction still seems popular to ensure high attention levels and positive results.
Lack of timely nudges: Learner memory is short; they often need to be engaged at the right time to lure them back to the platform. Lack of such nudges will lead to a disconnect and missing out on a valued customer.
Our CRED consulting teams work with EdTech marketers to improve their email programs and consult them on expert strategies in above scenarios. We dig deeper into educational portals and their challenges to identify and address the strategic problems.
Here are our 5 tried and tested email strategy solutions that solve EdTech marketing issues.
Build brand equity with learner stories
The content you send in your email is what creates the brand perception in the minds of your audience: always position your brand at a higher value. Catch their attention by standing out in the inbox.
A good way to achieve brand equity is to offer informational content about your popular courses, relevant industries, and industry developments.
Present the testimonials provided by the reviews, like learner stories, through your emails. These will accomplish two outcomes:
They will educate others on the benefits of the platform, instruction, and other features,
Reading about the positive learning experience will motivate learners to take up the course.
In addition, invite participation from end-users by presenting an open-ended discussion question at the end of your email. The responses will provide you a measure of their interest levels.
Example: Udemy campaign shows the feedback provided by past learners to their courses. Such stories are ambassadors for the platform to acquire new users and build trust in them about your platform.

Source: Inbox
2. Increase perceived value with platform updates

Include updates about the website/app platform in your newsletter to inform your subscribers of new features. Whenever you have a new course or product feature to offer, send an email to your users explaining its benefits for them.
E.g., you have a new course on Python programming language on your platform. Your platform has a feature that lets users submit their coding assignments live through the interface. You could devise ways to show how users can submit their errors and how the UI can correct those immediately.
Keep your update content short and exciting with catchy subject lines. Treat the newsletter as a product marketer, as it can improve course completion rates among learners.
3. Use drip campaigns to nudge inconsistent learners
As mentioned earlier, our team found that marketers needed to nudge the learners in a relevant and timely fashion. User memory is short, and learners need a reminder at the right touchpoints to get them back on your course.
Use the power of automated drip campaigns created in a sequence, which is based on user action or activity. Such emails need to be time-bound, personalized, and relevant to the category of the mail recipients.
You can plan an entire "This is what you missed" email series.
Your free trial expires in 7 days / Make the best of your free trial.
Make it urgent by calling attention to the number of days left. Get the user to take immediate action if they are interested in exploring your course free of cost.
While you were gone…
Focus on making the users aware of the exciting offers and courses they might have missed and can still access. It makes for a good automated email to send to inactive users.
500,000+ users have attended our free courses; when do you start yours?
Educate users on the popularity of the free courses that have been taken till now. Give them the 'FOMO' feeling and nudge with a relevant CTA for them to act immediately.
It's time to return to your course…
Send emails to your subscribers who have finished 25 – 50% of the course; talk to them about the value of completing the course, exciting topics that lie ahead, and remind them to return.
Example:
Udemy campaigns like the below offer an update on the progress of the course. Regular drip messages like these get noticed by users and will lure them back to the platform if the course is vital for their professional development.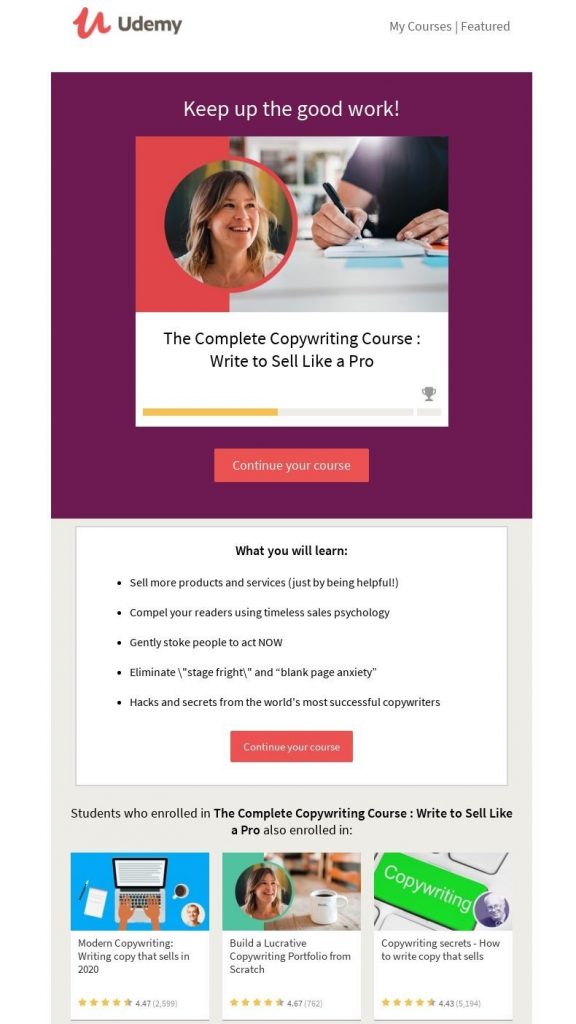 Source: Inbox
4. Stress on real-world applicability of the course
Professionals are currently looking to upskill themselves due to the uncertain economic environment. Your coursework needs to fill their professional skill gaps; ensure that the certificates you issue are applicable in the real world.

Certifications provide a moral lift and an ego boost for the learners, and add to a strong resume. They motivate learners to build up their skill sets by taking relevant courses.
A course taker needs to know if your certificate can:
Improve resume by adding a tangible value
Add a skill that they cannot acquire at work,
Be considered relevant by employer/industry.
Use your content to address such questions by emphasizing the professional applicability of your courses. It will reassure users to choose your course from the plethora of options available. It also helps a lot to have tie-ups with top-rated universities and colleges to provide their merit certification to your students.
Example:
EDX provides verified certificates from recognized universities on your course completion. Brands should find ways to tell users how to use the certifications on resumes and their value in the job market.



Source: Reallygoodemails
5. Offer rewards on course completion
Have an incremental reward system for the learners to motivate them to complete the courses.
We have observed that a momentum update on course progress every week helps them to stay on track. If skill progression is not motivating enough, complement with an average salary that the learner can earn in the job market, based on the newfound skills in their course.

On successful completion of a course, offer the learner a discount on the next course. Alternatively, you can also offer reward points to collect and use as a currency for taking another course.
Completing the course should get them on an upward curve of progress on the platform. Display the indicators of career path progression dominantly on your website/app. Encourage your learners to achieve their career goals, and thereby increase your completion rates significantly.
Example:
Pluralsight offers a monthly update on viewing and course statistics to each user. People like to read numbers about their behavior, so it becomes a highly engaging email campaign to send. You can also keep them updated with their course completion rate.

Source: Reallygoodemails
Wrapping up
Competition is tough in the online education space, with learners having innumerable options at their fingertips. Your platform needs to stand out, be noticed, and fulfill your customer expectations in such a situation.
The strategies shared above should increase learner engagement with your online education program and significantly improve your conversion rate. In addition, the quality of your teaching instruction and course content needs to be top-notch for increasing your perceived value with the end-users.

We asked Nimisha Nair, Deliverability expert, Netcore Solutions for her expert opinion on strategies that are proven to work well for online education portals.

Nimisha opines, "Focusing on every learner in your mailing list and getting them onboard your platform is a major challenge that marketing teams in OE brands face. In my opinion, a brand's value reduces when there is a lack of knowledge about its product offerings and services. The work of a marketer should start with educating new audience, focusing on existing audience, gathering feedback, and implementing changes to provide a better learner experience."

"Stopping every small leakage in your email program should be every marketer's priority. Customer engagement is the key to drive up revenue, increase your brand affinity, and is also a good tool to measure your customer expectations."

She adds, "Send personalized emails offering free trials and educate users about them to stay on top of mind like a brand. Offer your free services for a short period of your new learners and let your platform amaze them. We have observed that this strategy always has a positive effect on customer retention."

For strategy consulting on your email program and intelligent email delivery, talk to our experts at Netcore.

Also read our email benchmark report 2020: A study of 50bn+ emails and compare your email metrics with global standards.

#fortheloveofemails

---