Rome wasn't built in a day and neither was your fantasy gaming app! And the struggle hardly ever stops at just building a successful gaming app. Now, let's talk about the more difficult part – engaging users.
With new and improved old features, fantasy gaming apps are all set to cash in on the fever-pitch of excitement among users, owing to the two months IPL season. Mobile Premier League (MPL) witnessed a 100% increase in daily app installations with fantasy gamers going up by 7 times, during IPL 2020. Meanwhile, MyTeam 11 enjoyed the influx of over 3x more players. Similarly, other major players have seen exponential growth in their user base and have higher hopes hooked on to this IPL season as well.
This certainly is a crucial period for the fantasy gaming industry to expand its user base and further drive up app user engagement and retention, and overall fuel the app growth by delivering lasting customer experiences that ensures users keep coming back to you during and beyond the IPL season.
So, gear up! We've got some actionable insights for you to deliver unique experiences to different user segments by deploying no-code contextual nudges & walkthroughs across relevant stages of the user journey.
Stages of the user journey:
1. New user (User launches the app for the first time)
This is a pivotal part of the user journey that will decide whether or not a user will come back to the app. Here are a few use cases to create a compelling first time experience for users:
When a user launches the app for the very first time, show a walk-through to guide them to the upcoming events/contests and further nudge them to participate in those
Nudge first time users to play their very first match/game to win exciting rewards/bonuses/cash
Highlight the games section for users to show the variety of games the user could play on the app
Highlight the wallet section of the app, and further nudge users to complete KYC and add money to the wallet to start playing the matches
Nudge users to collect their daily rewards upon log-in, with a tool-tip with a beacon on the daily rewards section
To start with, deploying these contextual nudges & walkthroughs at the time of first launch ensures a smooth on-boarding experience for every user. By hand-holding the users and guiding them to the most relevant features, apps witness increased contest registrations for first time users, reduced day 0 uninstalls and an overall enhanced app user engagement that would prompt the users to come back to your app, repeatedly.
2. Active user (Use contextual nudges when user launches the app but doesn't join a match)
There will always be users who launch the app and spend some checking out matches (and not joining any). Or they simply try their hands on a few games. And here's how you can capture their attention and encourage them to check out more features/games on the app. Or, guide them to a specific match and further nudge them to join it.
At times, users need a little guidance before they create their team to participate in matches/league. A tool-tip on the expert/guru feature saying "Check out teams built by experts" is one of your best chances to nudge users to build their own teams.
Nudge users to play free games
If a user has been losing in paid games, highlight the free games section and nudge users to play a few free practice games.
Nudge users to explore the games section of the app
Deploy a series of nudges and guide users to first click on a specific match, create a team and enter the match.
Planting these nudges at the right moment helps drive feature adoption, improve engagement and increase the time users spend on the app.
3. Active user (User comes back to the app but hasn't created a team yet)
For users who are yet to create a team for matches, they've looked up. Here's how you can guide them to create their team
When a user launches the app, nudge them with a tool-tip saying 'Match about to begin, join now'
Guide users to create a team by nudging them to choose the players like – 1 Wicket Keeper, 2 Batsmen, etc
Highlight the football, cricket, basketball, and other sports section on the app. And then, nudge users to choose their favorite sport and start playing
Nudge users to add money to their wallets and participate in mega cash contests that could earn them exciting rewards or cash bonuses.
This again, increases app engagement, and further increases participation in contests/leagues/matches.
4. Converted User (use contextual nudges when a user plays a match for the first time)
It's always about delivering high value to users and giving them something more than what they came for. It's what would encourage a user to choose your app over dozens of other apps that are trying hard for their attention. To do that, it's important to drive the user's attention to key features and communicate the benefits you have in store for them.
Here are a couple of use cases you could pick your brains on:
Highlight 'spin the wheel' section that says 'Grab the chance to win additional rewards/cash-backs and more'
When a user wins a match and earns a cash prize, nudge them to share the app with their friends to earn more cash rewards
Nudge users to set reminders to get notified for upcoming matches.
These contextual nudges increase app stickiness. With nudging users to share the app with their friends, there's a spike in the number of app downloads.
5. Power Users (User regularly plays matches of a particular sport – cricket/football or any other leagues)
To convert regular users to loyal gamers, here are a few nudges that could help:
If a user religiously plays cricket, nudge him/her to explore other games/sports leagues on the app. You can nudge them towards football and further highlight an upcoming league the user could participate in
Nudge users to explore reward sections and redeem/claim their reward points
Nudge users to share contest code with friends and ask them to join in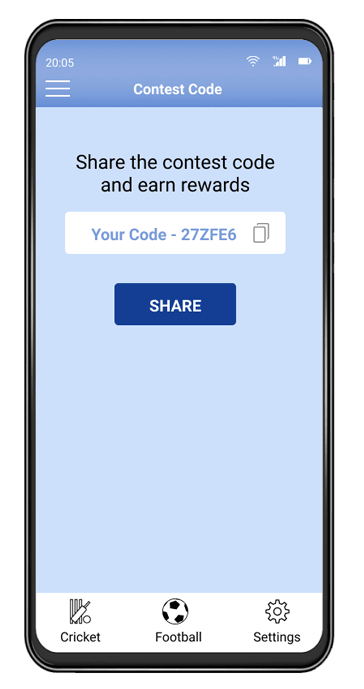 Highlight filter option to allow users to filter matches and view leagues of their interest
In addition to witnessing an increased influx of users, fantasy gaming platforms benefit from engaging, re-engaging, and retaining users with highly contextual and personalized nudges.
With the increasing popularity and fan base of fantasy games across the globe, fantasy gaming apps need to up their game. They need to craft one-of-a-kind app user experiences to improve their conversion, engagement, and retention. And the secret sauce to amplify app growth and ace the north star metrics is placing contextual nudges & walkthroughs across relevant stages of the user journey that would take users to their 'aha moment'
Netcore's no-code contextual nudges & walkthroughs:
Here's how Netcore's Product Experience Platform can help you get started:
Deploy contextual nudges & walkthroughs within 15 minutes, without having to write a single line of code
Zero engineering efforts needed
A powerful segmentation engine that helps you understand different user personas and nudge users in the right context, always!
Empower product managers with the much needed speed and agility
Are you ready to take action? Get in touch with us!