How will you identify the right customer? As a marketer, how will you map your customer's journey? How to target them as specifically as possible in this world of online banking and trading?
This blog post and its follow-ups are dedicated to the BFSI (Banking, Financial Services, and Insurance) industry that is marked by extreme competition and a fundamental shift of the consumer's mindset. If you are a BFSI marketer, you know what we are talking about.
Gone are the days when you stuck with your bank for a lifetime. These days, banking has become like any other channel for consumer products or services. Particularly in the case of investment products such as Mutual Funds. While the average consumer lacks the requisite knowledge for investing into equity, mutual funds or MFs as they are popularly known, have garnered a large marketshare of individual small investors.
Marketers in this space are currently dealing with consumers with a diverse set of objectives when investing into MFs and related products, a phenomenon that includes its own particular set of challenges: How to identify the right customer? As a marketer, how will you map their customer journey? How to target them as specifically as possible in this world of online banking and trading?
Related Case Study: SBI MF Improved Online Sales by 54% using Cross-channel Marketing Automation
Rahul is a young engineering student in a top college in Mumbai, with big dreams in his heart. Rahul, who hails from a middle class family, believes in the power of hard work and perseverance, a little different his close friend Sebastian, a high-flying individual with larger than life attitude and bank balance, or his best friend Sana, who is a bit of an introvert and likes to play it safe.
When the day of reckoning comes i.e. placement season, Sana is the first one in this trio to bag a moderately paying full-time job while Sebastian couldn't be bothered with the 9-to-5, and moves into an entrepreneurial role instead, joining a tech startup. Rahul, meanwhile, takes the middle path – he joins a company that allows him to apply his engineering skills as well as have time for himself to indulge his passion that is basketball.
Rahul is the kind of person who wants a little bit of everything. He is more conscious than the typical millennial, but is also more adventurous than the typical middle-aged professional. He is the 'responsible cool' looking for interesting avenues for investment so that his future allows him to make room for a family, his family's dreams, and of course, his own. His risk appetite is moderate while growth is his focus.
Rahul wants to start investing, so he talks to his friends Sana and Sebastian. Two years since they got out of college, Sana, advises him to follow the age-old path of FDs and PFs and focus less on equity investing including MFs, while Sebastian starts off with an offer of partnership in his "as of now small but growing" start-up.
Rahul, on the other hand, reads up on Mutual Funds and decides this is better than focusing on FDs, in which funds get locked for a time period. Moreover, MFs are a safer way into equity investing while a partnership in a start-up is a far riskier option for someone who is looking to secure his principal.
Observe carefully and you'll notice that as a marketer, you will come across such customers from time to time. With so much information available, customers want to avoid information overload in order to make intelligent decisions. As marketers, you can gain their trust by giving them the correct information based on their needs. How do you know what to show to which type of customer?
The key is to construct consumer personas as follows: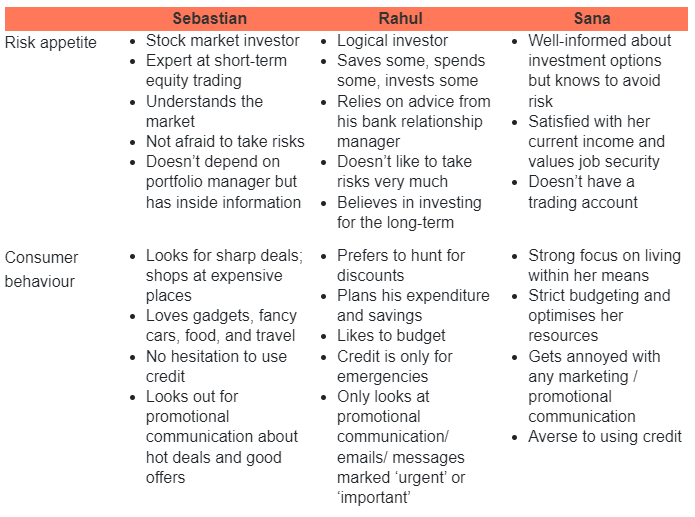 In the world of digital marketing, you should target these three different customers in different ways, even though an outreach will be online rather than face to face.
Download our report on 8 transformational martech trends with use cases
All three customers are in different stages of their customer journey and using one kind of communication for all three will obviously fail in achieving your marketing objectives. Stay with us and we will show you how we helped our clients address these different clients in ways that are suitable and effective to increase their marketing ROI and adspend, through the use of marketing automation and artificial intelligence.