Marketers love data-driven campaigns since they yield better results. Helping thousands of marketers and product managers with data analytics, Amplitude is the leading data analytics platform. Partnering with Amplitude today, we're happy to announce the Netcore Amplitude integration that brings a new way to launch even more effective campaigns.
Bring more data to your campaigns
Amplitude helps you track, visualize, and analyze user engagement and behavior data. Netcore Cloud helps you launch personalized campaigns to your customers.
With the integration, target Amplitude cohorts in Netcore Cloud to create campaigns and journeys that tap into multiple channels. You can also further segment the imported cohorts to fine-tune your target audience. Send campaigns across channels like email, push notifications, web notifications, SMS, in-app messages, and more. Netcore's AI engine Raman also helps choose the best channels to make the campaigns even more effective.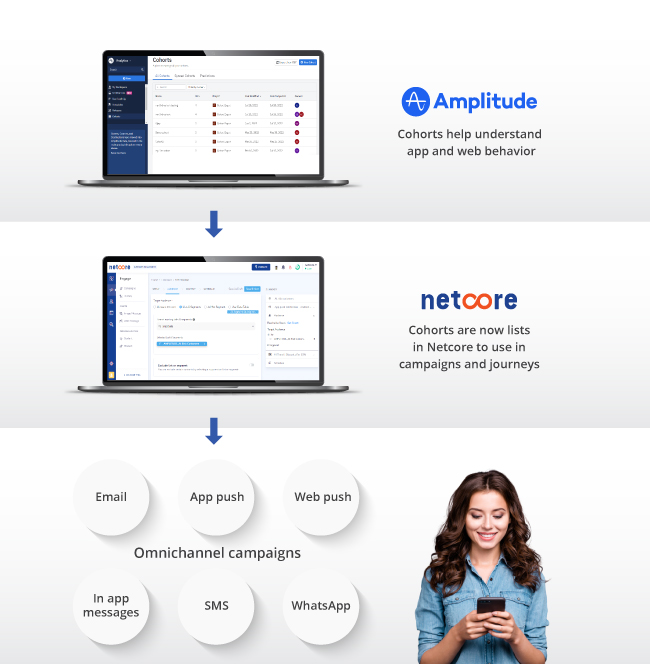 With the new integration, customers that use both products can export cohort data from Amplitude to Netcore. Import both web and app cohorts to Netcore for an omnichannel approach. Since the imports are stored as lists in Netcore Cloud, the actionable possibilities are virtually infinite.
Benefits for you
With the Netcore Amplitude integration, you can:
Import Amplitude analytics to Netcore with a few clicks
Automatically fetch updates in cohorts
Launch campaigns to cohorts
Let's see how different domains can benefit from the Netcore Amplitude integration.
Ecommerce: Cart abandons
Cart abandonments are a major problem for ecommerce brands. They happen due to multiple reasons and across web and apps. Consider cohorts that add items to cart but never proceed to checkout on one or multiple instances. Here you can export them as different cohorts to Netcore and engage the consumers with individual campaigns or sophisticated journeys to send promotions.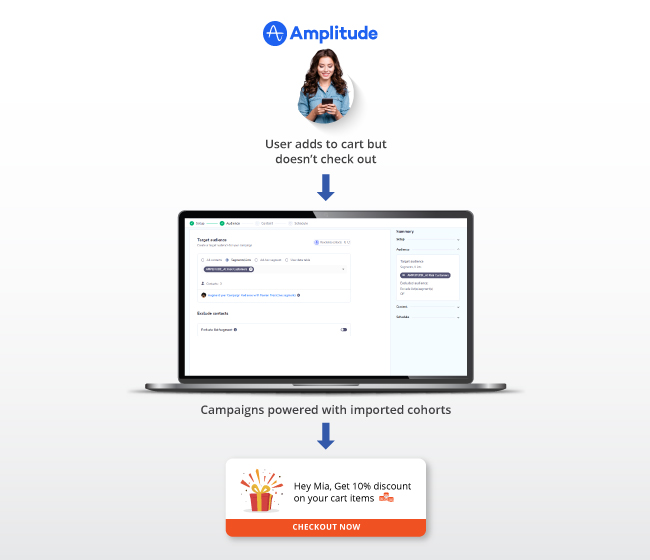 Edtech: Dropoffs
As a marketer, when using Amplitude's powerful funnels, you'd look at how many users signed up for a class and how many of them dropped off after watching the free intro. By exploring this cohort into Netcore, you can target such dropoffs with personalized messages and promotions to get them back in the funnel.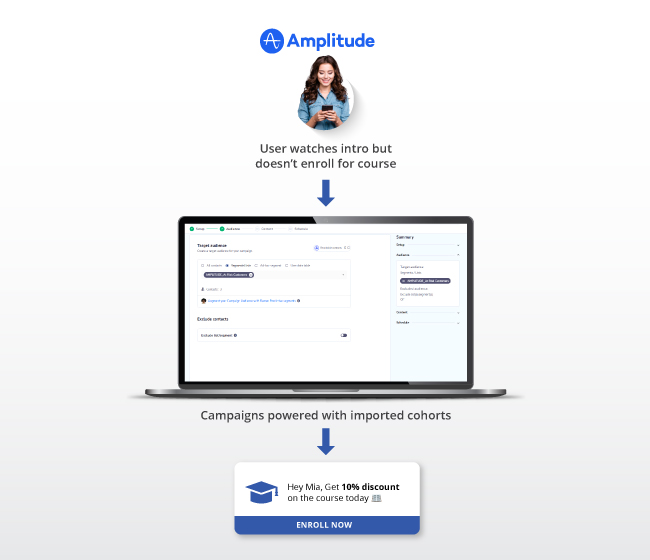 OTT: Activation
Media streaming OTT brands have cohorts that stopped watching a series to target them with activation campaigns. The funnel can also be expanded to see "Videos search → Videos watched". From here, you can send push notifications or email campaigns to remind users to finish watching the series. The campaign results can be seen on the Netcore dashboard to understand and change the communications.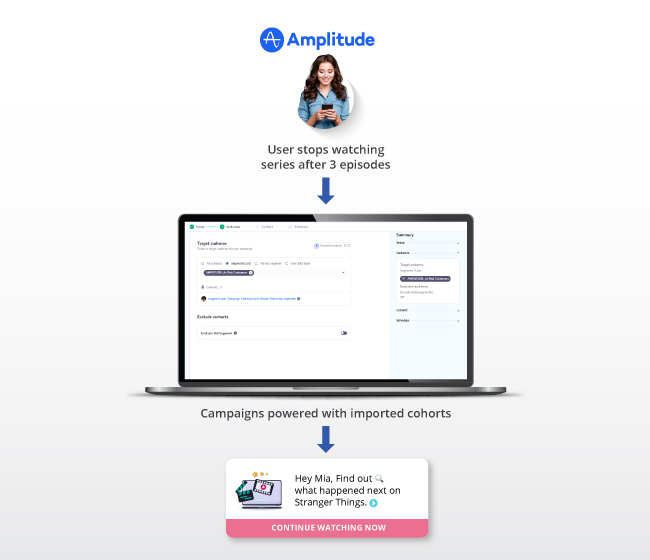 Banking: Nudges
In a more advanced setup, the Netcore Amplitude integration allows syncing any cohort from Amplitude and running nudges using our Product Experience (PX) platform. These nudges are executed on a Netcore list. Consider a banking consumer cohort that activated their credit cards offline; this data now resides in the backend. By syncing the data with Netcore, you can run nudges on the banking app with the PX platform when these users open the app.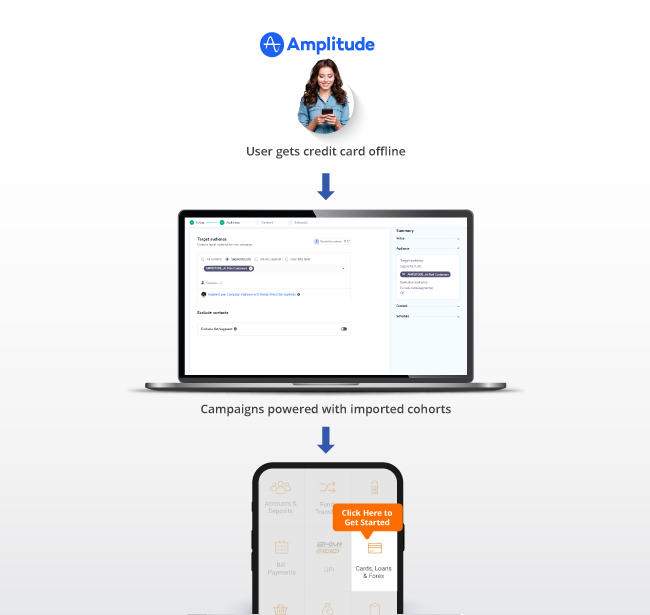 Data analysis by exporting
Data can get complex, especially with large user bases and multiple touchpoints. For such cases, the imported lists can be exported as CSV files for data analysis tools. After gaining insights from these analyses, you can optimize your campaigns and messaging for the desired ROI.
Start syncing data today
With Netcore's strength in AI-led customer engagement and Amplitude's analytics, you can sync data to launch powerful campaigns across customer touchpoints. Soon, we're adding options to send campaign performance data to Amplitude for analysis and event data, among other features. Meanwhile, you can view this data within the Netcore dashboard.
To know more and get started with campaigns on imported data, contact us.