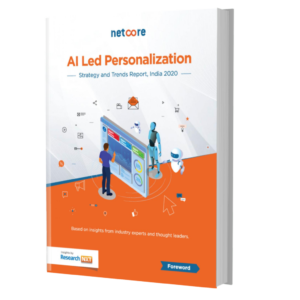 AI Led Personalization
Strategy and Trends Report, India 2020
Do you look back at 2020 now, and heave a sigh of relief?
This year-end, there is a lot more than usual to reminisce about.
While the value of personalization was never doubted, the current times have made the marketers realize that personalization is not a choice anymore, it is a necessity. The need to stay connected with the customers during the critical months of the pandemic when the scope of business transactions was low, reinforced the fact that lasting customer relations can only be built on the foundation of personalization. And it goes without saying that the ability to deliver hyper-personalized experiences to customers comes through whole-hearted adoption of AI.
In this regard, we wanted to bring to you the perspectives of the best marketing minds of India. We conducted extensive discussions with the who's-who of AI, ML, marketing technology space and compiled the essence of the conversations into this e-book you are about to read.
In it, you will find:
Countless marketing insights from 22 most-celebrated marketing experts of India. To name a few - Ritesh Ghosal (CMO, Croma), Banwari Lal Sharma (CEO, CarWale), Ravi Santhanam (CMO, HDFC Bank), Sweta Aggarwall (CMO, State Bank of India)
CMOs and Heads of Marketing across leading BFSI, OTT, D2C, and eCommerce brands sharing their first-hand experience of dealing with the pandemic situation.

India's martech think tank's thoughts on the adoption of AI led personalization and the strategies they follow for customer engagement and retention. The likes of Sanjay Gupta (Head of Marketing, APAC Uber), Iti Mehrotra (HoM, 5paisa.com), & Rohit Srivastav (Head of Growth, Netcore) share their interesting ideas on AI marketing